5 best collagen supplements for skin
One nutrient that seems to be blowing up in the sporting and beauty supplements industry is collagen. This is a protein that is used in your body and can have great physical and aesthetic benefits to your body. You may have seen many different collagen supplements like pills or powders and there are always different ones being released due to the increase in popularity. If you're wandering which collagen supplements can benefits you and result in great skin then we are sharing a few popular supplements that are great for skin and can make you feel a lot better.
Why take collage?
As this supplement is so popular it must have some benefits. Well collagen is the most abundant protein in your body and has many different roles. One of the things collagen does is make up the surface on your skin and can help with rebuilding and healing skin. Also, this protein plays an important part in bone health and can lead to healthier joints and less pain. When it comes to collagen there are many different types, and these are:
Type 1- This is 90% of your body's collagen and is the structure of skin, bones, tendon, connective tissue and teeth. These fibres are densely packed.
Type 2 – This type of collagen is made up of more loose fibres and is used for elastic cartilage which cushions joints.
Type 3 – This supports the structure of muscles and organs.
Type 4 – This helps with filtration and is found in the layers of skin.
Another reason why you want to start taking collagen supplements is that your body's collagen levels deplete with older age. This is one of the reasons why we get more joint pain, and our skin and hair may not be as nice as it was.  A collagen also is responsible for muscle, this nutrient can also be used as a sporting supplement and can help with muscle growth and repair, leading to an increase in your physical performance and also self-esteem.  One thing to remember is that many collagen supplements use collagen from animal sources so many are not suitable for vegan or vegetarians.
Vital proteins collagen creamer
Vital proteins is a great brand when it comes to beauty supplements and performance supplements. If you drink tea or coffee then the collagen creamer is a product you should be taking to make sure you are getting your dose of collagen. Per serving this contains 10g of collagen peptides  and is available in great flavours like vanilla and coconut.  There are many reviews of people who have taken this supplement whenever they have a coffee or tea and have seen an enormous difference within the first few weeks.
The great thing about this supplement is that its easy to include it into your daily life. For example, when making a coffee, tea or smoothie its easy to remember to throw some collagen creamer in to make it more healthy. There are also reports of this product improving gut health as collagen also plays a key role in gut health. This creamer also has next to no sugar making it a great healthier option over normal creamers or milk. There are also no artificial ingredients present in the creamer also making it a more healthy option.
NeoCell beauty burst
Beauty bursts by NeoCell are a great and easy to take collagen supplement. In a great tasting chewable sweet there is packed 2000mg of collagen and vitamin c. The types of collagen that are abundant in this product are types 1 and 3 so this supplement can help you strengthen your hair and skin. The vitamin c in this supplement can also help keep your skin healthy as it helps repair free radical damage and brightens the skin, making you look better and have a natural glow. This can also help with the effects of sun damage your skin may have experienced.
Another substance that is present in this chew is hyaluronic acid. The main function of this in your body is to retain water and keep tissue well lubricated and moist and it is found in your skin and eyes. So getting enough hyaluronic acid can keep your skin moist and prevent it from drying out. This product is also free of artificial flavours and gluten and is available in great flavours like fruit punch that can satisfy your sweet tooth.
Vital proteins collagen peptides
This is another collagen supplement from the company vital proteins. This supplement comes in powder form and is diluted to make a drink. It can be bough in flavoured or non-flavoured options and like the collagen creamer, can also be used in many other recipes like smoothies and shakes. As it's a dissolvable drink this supplement is relatively easy to take, however there is a chance of the powder forming clumps similar to what happens with whey supplements, so be careful to stir it enough.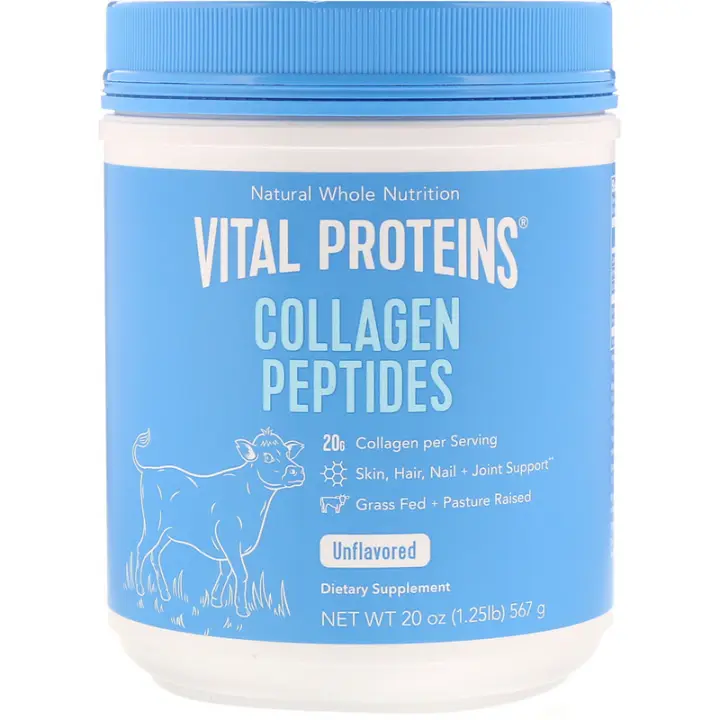 When it comes to nutrients this supplement is packed. Each serving contains 20g of collagen peptides that come from grass fed sources of meat. Again, like many supplements designed to keep your skin, hair and nails healthy this also contains other nutrients like vitamin c and hyaluronic acid. As before these can also be beneficial for your skin and hair and also help with other things like joints. This can also be taken in many other forms like in cereal or foods as long as the powder has completely dissolved, and the unflavoured option allows for you to experience no taste, so you don't even know your having it.
Purely inspired collagen peptides
Purely inspired is a great up and coming collagen brand that is taking the USA by storm. This supplement in particular is the collagen peptides and is an easy to take power supplement that you can put in your favourite drinks and have it similar to a protein shake. The powders are also available in great flavours like chocolate, vanilla or just unflavoured. This supplement contains collagen types 1 and 3 which are the types that make up your skin, hair and nails so you're receiving all the support you may need. Each portion of this supplement contains 20g of collagen peptides and is great as it contains no sugar.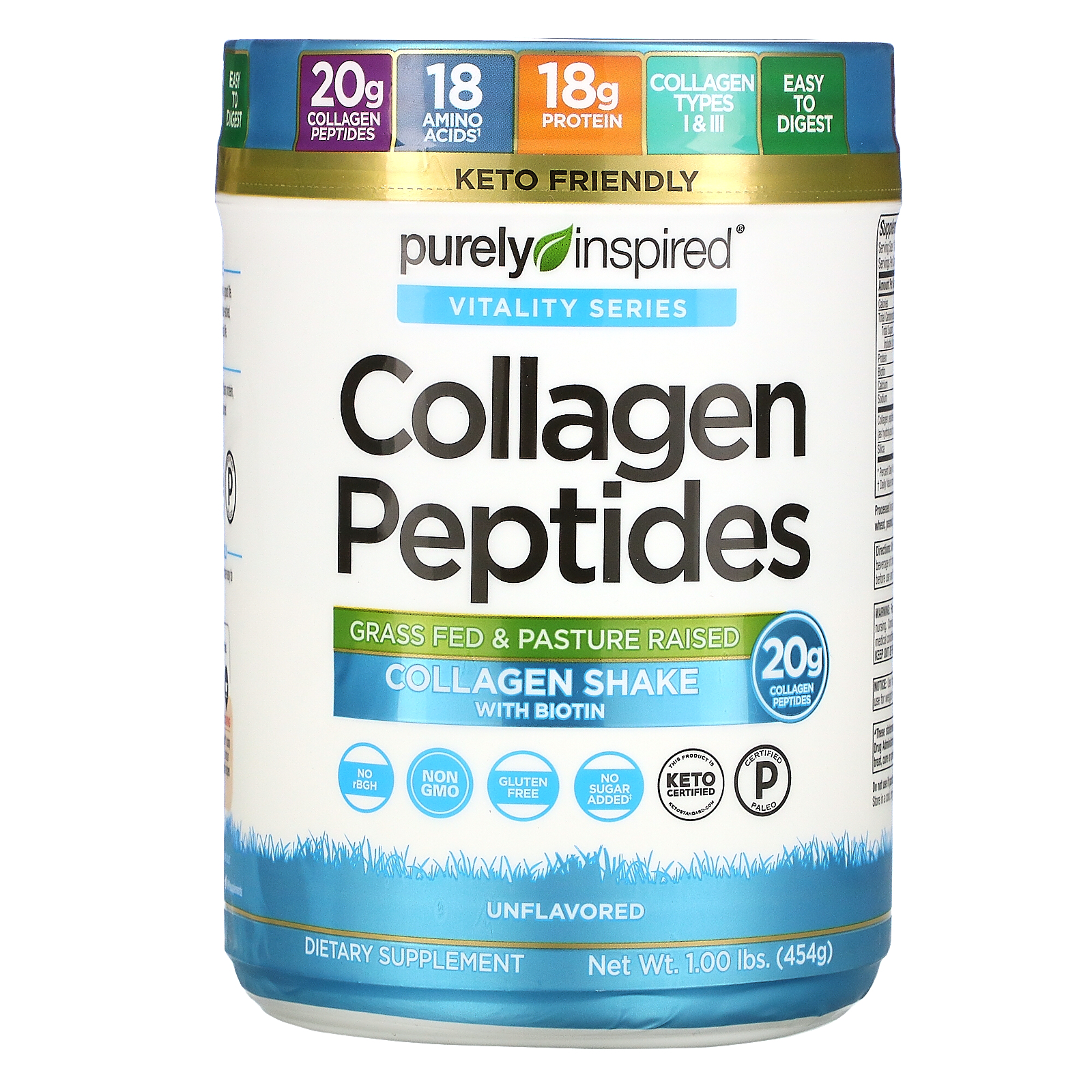 This product is also keto friendly, so it is low on carbohydrates. It is also high in protein which can help with growing and maintaining muscle mass, making it a great choice for when you are training. The sources of the collagen in this product come from grass fed beef that hasn't been subject to growth hormones, making it a good source of natural protein and collagen. This product also contains biotin, this is a B vitamin that is important to our health. A few things biotin is used for in the body are supporting your metabolism and improving nail and hair health.
NeoCell super collagen
Another great supplement from the NeoCell range is super collagen. This is also a quick and easy drink that is in powder form and can be taken with other drinks. One serving only contains 25 calories and 6g of collagen. This also contains no artificial flavours and GMO's making it healthier when compared to other drinks. The collagen used in this supplement is bovine collagen meaning it comes from cows. Another type of collagen used is marine collagen and this means the proteins derive from fish and sea creatures.
If you're watching your weight but still want that collagen release then this is a great drink to take daily. The effects can be seen within weeks and will lead to you having healthier skin and nails. There are also many other great effects of getting enough collagen like relieved joint pain and also increased muscle mass and weight loss as this is still a protein and does make up muscle tissue.
When it comes to skin support supplements, thanks to collagens increase in popularity we are spoiled for choice. These supplements are known to strengthen skin hair and nails, but also have a lot of other functions in the body they can support like joints and bones. As we get older our body starts to lose its collagen stores and produces it slower in the body. This is just one of the many reasons you need to take extra care and think about taking supplements to ensure you stay healthy. These are only a few of the many supplements you can find on our store to ensure you are staying healthy.
---